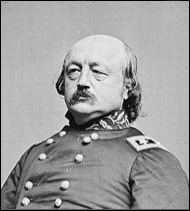 GENERAL BENJAMIN FRANKLIN BUTLER (1818 – 1893)
Butler was born on November 5 in South Deerfield, New Hampshire. He was the son of John Butler, who served under Andrew Jackson in the War of 1812. After the death of his father in 1828, Butler moved with his mother and brother to Lowell, Massachusetts. Following his mother's wishes to become a minister, Butler entered Waterville College in Maine at the age of sixteen.
As a child, he was somewhat frail and small in stature only becoming five feet four inches tall as an adult. Butler entered law school and was admitted to the bar in 1840. With offices in Lowell and Boston, and through perseverance and exhaustless ingenuity, Butler was one of the most successful lawyers in New England.
Trying his hand at politics, Butler was elected to the Massachusetts assembly in 1853 and later served in the state senate. In April 1861, he was selected by the governor of Massachusetts to be brigadier of the state regiment. He traveled with his troops to Baltimore and Washington in the early days of the Civil War. Under a cloud of contradiction, Butler was assigned to command Fortress Monroe outside Hampton, Virginia, the only Union controlled fort in the south.
Shortly after arriving to Fortress Monroe, three slaves escaped a Confederate stronghold at Sewell's Point and sought refuge from Butler. Defying the Fugitive Slave Act, Butler provided sanctuary to the slaves, claiming that they were contraband. In the following days and weeks, more slaves from the Hampton area flooded Fortress Monroe seeking refuge. It is believed that his appeals to Washington for guidance, in addition to similar events around the country, influenced President Lincoln to issue the Emancipation Proclamation.
Butler served in different roles throughout the Civil War until 1865, when he resigned his commission and returned home to continue his pursuits in politics. He was elected to Congress, served as the governor of Massachusetts and unsuccessfully ran for president in 1884.
Save